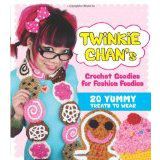 You can introduce some kawaii-style cute into your crocheting with these free crochet patterns by Twinkie Chan. She's famous for designing adorable scarves, clothing, and accessories accented with food items such as cupcakes, strawberries, lollipops and other sweet treats. Her goodies make fabulous gifts, but you'll want to crochet some to keep for yourself too!
Twinkie Chan contributed this free dishcloth pattern to the "Sweets & Delights" promo from Lily Sugar and Cream and Michael's. This free pattern is posted at Twinkie Chan's blog, along with some yummy-looking pictures of the dishcloths.

See Also: Free Crochet Dishcloth Patterns

This cute cupcake garland would make a fab party decoration. You can get the free crochet pattern at the Rocknrollbride website.

I laughed out loud when I saw this fun coffee-cup cozy, which I think lives up to its title nicely. He really does look grumpy! I think he'd made a fun gift, and he's both non-gender-specific and guy-friendly.

You know those iconic cheese-flavored crackers that are shaped like fish? Here's a fun pattern you can use to crochet a fibery version of them. Twinkie Chan suggests using the finished piece to make a pin, and she also gives some other interesting suggestions if a pin isn't quite what you had in mind for the end use of your (faux) crackers.

Twinkie Chan has posted this pattern for free on her own blog.

Continue to 5 of 11 below.

This project is so silly that you may just laugh out loud when you see it. If you'd like to transform a dog into a teddy bear using a crocheted ear warmer as your prop, then this is definitely the pattern for you.

To see a different option for using the same heart, check out this design; here, Twinkie Chan transforms an ordinary t-shirt into a not-really-that-scary Halloween creation.

This crocheted heart shape resembles a lollipop; it makes a great pendant, but there are other creative ways you can use it.

You know all those little pastel candy hearts you see around Valentine's Day? The ones that say romantic things like "kiss me" on the front? This garland is designed to resemble those, only it's crocheted. You can add felt letters to dress up the "candy" hearts.

You'll find the free pattern posted at Twinkie Chan's blog.

Continue to 9 of 11 below.

You can crochet these teeny-tiny faux gummy bears using a free crochet pattern posted at the Lion Brand yarns website. The link posted above actually takes you to Twinkie Chan's blog, where she posted an announcement about the pattern plus a photo and some more details. If you want to check out the actual pattern, you'll need to have (or create) an account at the Lion Brand yarns website.

This cute lollipop brooch could also be used as an applique. The lollipop is crocheted in an appealing contrasting spiral design. The free crochet pattern is posted at the "Cut Out and Keep" website.

Twinkie Chan's Crochet Pattern Book, Crochet Goodies for Fashion Foodies. Twinkie Chan's Pattern Book, Crochet Goodies for Fashion Foodies. Photo Courtesy Pricegrabber.

No matter what your "foodie status" is, you're likely to find something appealing in this book. If you're a vegetarian or vegan, check out the salad scarf, the carrot scarf, the radish scarf, the pear scarf, and the grapefruit scarf. If you're a sweet-tooth, many of the designs in this book will be good choices, including the cupcake scarf, the cookie scarf, the rocket popsicle scarf and the gingerbread man scarf. If you're a meat-lover, perhaps you'd enjoy the...MORE spaghetti and meatballs scarf, or the pepperoni pizza scarf. These scarves all look like a lot of fun to make, and they'd be real conversation-starters when you wear them around.