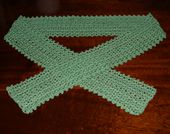 This cotton scarf is stylish and elegant. It's crocheted in lacy v stitches and edged with pretty picots; the scarf will add feminine flair to a variety of different outfits, from suits and dresses to casual ensembles.
While the finished scarf does look intricate and detailed, don't let that fool you into thinking this is a challenging project; it isn't. Thread crochet has a reputation for being difficult, but in some cases it really isn't all that hard.
If you use basic stitches and heavier thread, a thread crochet project can be pretty easy. That's the case with this thread crochet scarf. The finished scarf looks complicated, but the project is easy to crochet.
One other fantastic thing about this project: it's totally affordable. I crocheted my sample scarf using less than two balls of crochet thread, for a total investment of about $5.00 US. If you're interested in making an affordable gift that doesn't look cheap, this is a fantastic project to consider. If you do a good job of crocheting this, you'll end up with a scarf that looks like you paid a small fortune for it in a chic little boutique.
See more photos; I've created an image gallery featuring more pictures of this scarf design:
Crochet Skill Level: Easy
Supplies:
To crochet my sample scarf, I used size 3 Royale Fashion crochet thread in the sage color. Each ball of this crochet thread has 150 yards. I used two balls of thread. I used approximately 2.5 ounces of thread.
Crochet Hook:
The crochet hook I used to make my sample scarf is a size C / 2.5 mm crochet hook.
Use either this size crochet hook or whichever size hook it takes you to get the correct gauge.
Other: Tapestry Needle for weaving in ends
Gauge:
Stitch gauge: When working in v st: 2 v sts = 1 inch.
Row gauge is not critical for this project; if you want a wider scarf, simply work more rows before adding the final rows of picot stitch. Be aware that you might need to purchase additional crochet thread if you plan to make the scarf much wider than the measurements specified. If you want a narrower scarf, work fewer v st rows before adding the final rows of picot stitch.
Finished Size:
My sample scarf measures approximately 49 inches by 3.5 inches.
Special Crochet Stitches Used in This Pattern:
V Stitch: 1 dc, ch 1, 1 dc, all in the same stitch or space.
Picot: 1 sc st, ch 3, sl st in 3rd ch from hook, sc; for this pattern, you'll work all the steps in this sequence into the same ch-1 space in the center of the v st in the previous row.
Scarf Instructions:
Ch 305.
Row 1: The first 3 chs count as 1 dc st. dc in 4th ch from hook. (Skip next 2 chs, v st in next ch.) Repeat sequence in parentheses 98 more times. Skip next 2 ch sts and work a dc st into each of the last 2 chs. You end up with 99 v sts and 4 dc sts total in this row.
ch 3, turn. The turning chain counts as the first dc st in the row, now and throughout the rest of the pattern.
Row 2: dc in next dc, (v st in next v st.) Work sequence in parentheses across the entire row. When you run out of v sts, end the row by working 1 dc into each of the last 2 sts in the row.
Rows 3-5: Repeat row 2.
ch 1, turn.
Row 6: sc in each of the first 2 sts. (Picot in next v st, sl st in space between v sts.) Repeat sequence in parentheses all the way across the row. After the last v st in the row, sl st between the v st and the next dc in the previous row, then work a sc in each of the next 2 sts. End off.
The other half of the scarf will be a mirror image of the first half you just worked. To accomplish this, flip the work over and work back into the same starting chain. Attach your crochet thread with a slip knot.
Row 7: ch 3 – counts as 1 dc. Dc in next ch. (skip next 2 chs, v st in next ch.) Repeat across the entire row. Dc in each of the last 2 sts in the row.
ch 3, turn.
Rows 8-11: Repeat row 2.
ch 1, turn.
Row 12: Repeat row 6.
End off. Weave in all ends. Block scarf if desired; blocking will help to enhance the lacy effect.
More Easy Crochet Patterns: