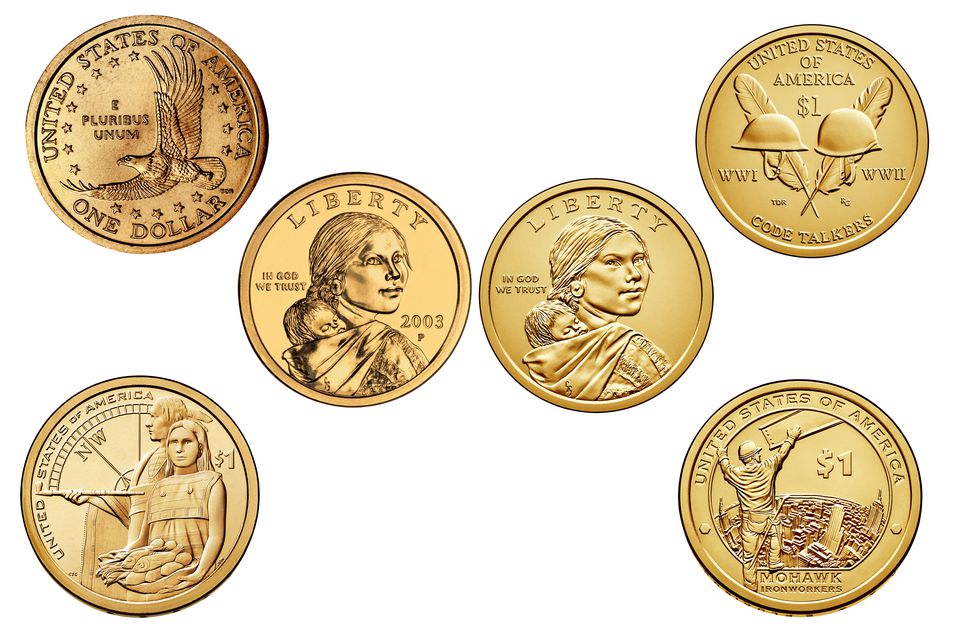 Knowing the Sacagawea dollar key dates, rarities and varieties will teach you to recognize that small differences on a coin can mean large differences in its value. Listed below you will find a description of each type along with a detailed photo to help you identify the coin. Many factors go into determining the value of a coin and some of them are quite valuable while others are not. Look at the pictures and read each description carefully so you can identify these coins. Please refer to the Sa...MOREcagawea value and price guide for current market trends of these coins.
2000-P Cheerios Dollars

In 1999, the United States Mint began to produce the Sacagawea dollars. In an effort to market the coins and encourage the public to use them, they partnered with several commercial businesses to promote the use of the new coins. One of the businesses was General Mills. The United States Mint produced 5,500 Sacagawea dollars to be given away in specially marked boxes of Cheerios. It wasn't until 2005 that coin collector Pat Braddick noticed the difference between a regular issued Sacagawea...MORE dollar and the ones that were placed in the boxes of Cheerios. Look for sharp and crisp details in the eagle's tail feathers to identify this rare variety.

High resolution photo of the Sacagawea 2000-P Cheerios Dollars

2000-P Goodacre Presentation Specimens

2000-P Goodacre Presentation Specimens in ICG and PCGS Holders. Image Courtesy of: Heritage Auction Galleries, Ha.com

Glenna Goodacre's artistic rendering of Sacagawea won the $5,000 commission awarded by the United States Mint. Goodacre requested that her fee be delivered in Sacagawea dollars to her studio in Santa Fe, New Mexico. The dollars delivered to her were different from the coins that were minted for regular circulation. They were struck on burnished planchets that gave them a proof-like or "Specimen" appearance. She had all 5,000 coins encapsulated and certified by Independent Coin...MORE Grading Company (ICG). This preserved their provenance as one of the original 5,000 pieces presented to Goodacre. Many of these specimens were later reholdered into PCGS or NGC holders. There are no reports of collectors finding these in circulation.

High resolution photo of the Sacagawea 2000-P Goodacre Presentation Specimens

2000-P Wounded Eagle Die Variety

2000-P Sacajawea Dollar Wounded Eagle Die Variety. Image Copyright: © 2014 James Bucki; All rights reserved.

This die variety gets its name from three raised die flaws that cut across the lower portion of the eagle's torso and wing. Fewer than 200 specimens have been reported. It remains unknown as to the exact cause of the imperfections in the die that created these coins.

High resolution photo of the Sacagawea 2000-P Wounded Eagle Die Variety

2007 Sacagawea Dollar With Edge Lettering

In 2007, Sacajawea dollars had the date and mintmark on the obverse to the right of the portrait. At the same time presidential dollars were being minted with the date, mint mark and mottos incuse on the edge. Somehow a 2007 Sacajawea dollar received edge lettering intended for presidential dollars. Edge lettering was not used on the Sacagawea Dollar (a.k.a. Native American Dollars) until 2009.

Be careful if you purchase one of these on eBay or any other online auction site. The edge lettering is...MORE very easily added to the edge of a legitimate Sacajawea dollar. If you find one in circulation, you should send it to one of the third party grading companies for authentication and certification. That way, you can guarantee it is original and the coin has not been altered since it left the mint.

Continue to 5 of 5 below.

Many More to Be Discovered

The varieties described above have already been found and documented. Given the millions of Sacajawea dollars that have already been minted, there are bound to be more. With patience and persistence you can discover the next die variety or rare Sacajawea dollar error.