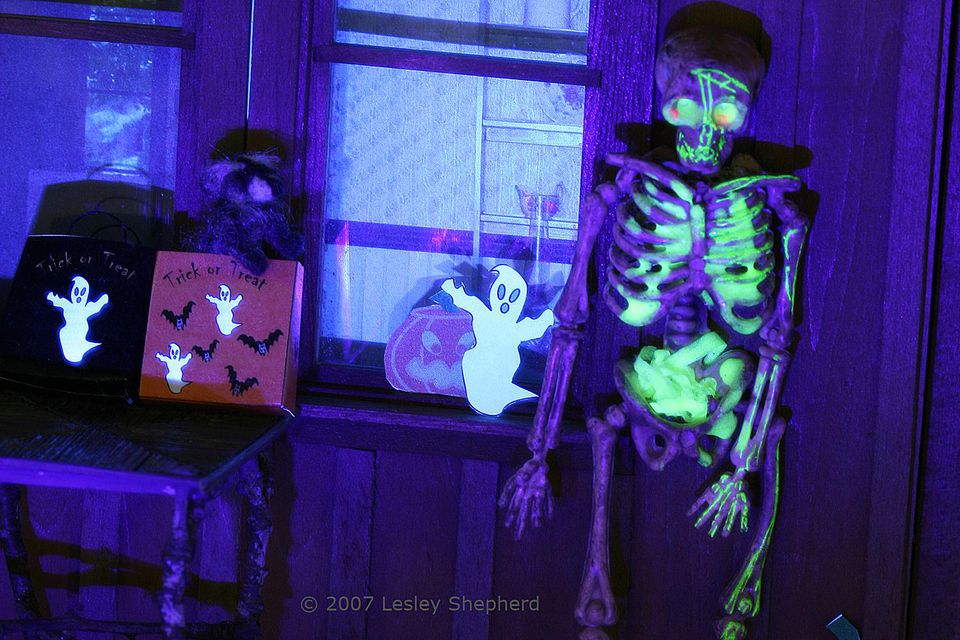 The Bottom Line
These miniature black lights add some wonderful effects to miniature Halloween scenes and dollhouse displays, with or without fluorescent paint. Combined with bright white paper they create a true black light effect for Halloween or circus/fun fare/disco displays. The lights are powered by L.E.D.s which makes them fairly powerful at short ranges. It is easy to create glowing effects using these lights and fluorescent highlighting markers or paints.
The only downside is that lights in this range are emitting UVA rays.
Do not look into these lamps or aim them where anyone will look directly at them!
Pros
Tiny black lights operate with a 4.5 volt adapter (from Lemax) or 3 AA batteries.
Floodlight style allows up and down pivot and produces a reasonable range for a miniature display.
39 inch (1 Meter) cord on each light gives you a lot of flexibility.
Cons
Floodlight heads although small, are a bit bulky.
Not listed as Black Lights, no warnings about UV. Do not look into these lights !
Best powered by a separately available plug in power supply, also from Lemax.
Description
Good directional design for miniature floodlights, easy to mount in front of a miniature display.
Surprisingly good range, at least two feet away from an item the lights still create an effect, in dull daylight or dark.
Make sure these will not be placed where anyone will stare at the purple light! Especially not children!
Easy to use with common fluorescent highlighters on bright white paper or fabric for the most colorful fluorescent effects.
Guide Review - Lemax Spooky Town Purple Lights - Miniature Black Lights
Although labelled Halloween Purple Light these Lemax Spooky Town accessory lights use near UV L.E.D.s. They also emit a fair amount of visible violet light which make them a popular addition to Halloween displays as they create an eerie purple glow, greying out backgrounds.
The 1m (39 inch) cord which connects the lights to the battery pack is a very fine wire, which must be handled carefully to avoid it breaking. The length of the wire supplied and the swivel head, make these lights easy to position for a display.
Each light unit consists of three L.E.D.'s mounted in a black box with a clear plastic lens. The base of the unit could easily accept a piece of double sided tape to hold the box in place for safety. If you will be mounting them in front of the display, they are weighted to allow the small spotlights to be moved easily without tipping over the unit.
These are a simple method of producing black light effects in miniature scenes. They work well on bright printer paper, and with most common fluorescent ink highlighting pens. This means you can print out a simple design, highlight it with a fluorescent highlighter, and your special effects will glow convincingly. You can also use the highlighting pens to pick out detail on objects, as was done with the skeleton in the photo above.
The price is very reasonable for a special effect (under $15.00) Commonly available from big box craft stores or online.