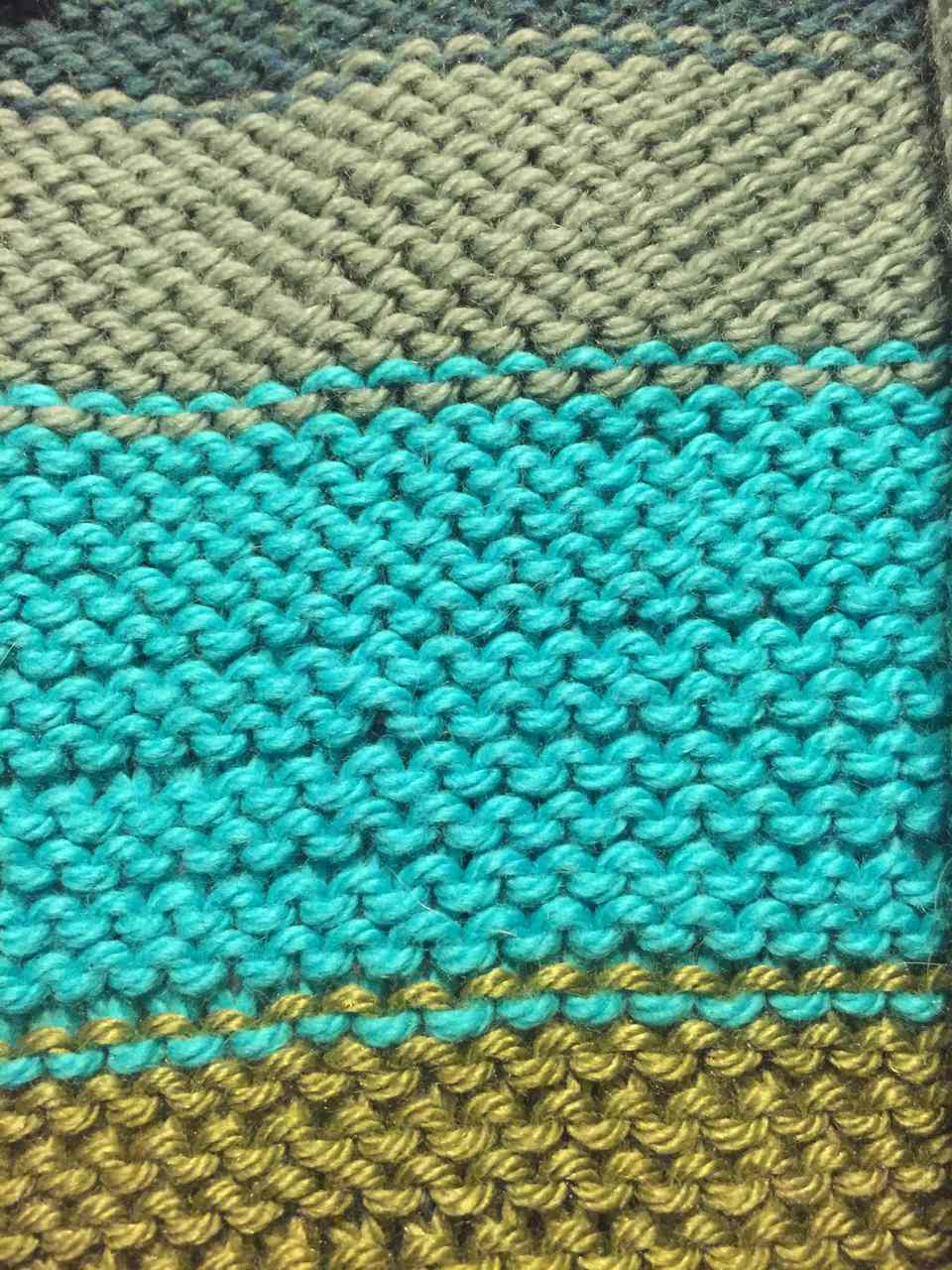 Reverse stockinette stitch, as you might imagine, is the same as stockinette stitch, but in reverse.
In this case, reverse means not knitting backward, but looking backward, because what is considered the back of stockinette is the front of reverse stockinette.
It's a simple stitch pattern with a lot of texture, which some knitters like and others don't. But it's good, at least, to know what it is and how to work it should you ever want to.
Knitting Reverse Stockinette
Just like regular stockinette, reverse stockinette works on any number of stitches and is made by knitting a row and purling a row. But there is a little difference, spelled out this way:
Row 1: Purl.
Row 2: Knit.
Repeat these two rows for pattern.
So where Stockinette Stitch is smooth Vs, Reverse Stockinette is all bumps.
Some people don't like Reverse Stockinette because they prefer the look of "regular" Stockinette. Reverse Stockinette also holds the potential problem of rowing out, which is where uneven tension between your knit and purl rows shows. It's a lot easier to see in Reverse Stockinette, and it can be difficult to fix, so this is a big potential problem with working Reverse.
Working in the round helps, though you may want to consider treating your project as if it were Stockinette and turning it right side out after the knitting is done unless you really like purling.
(Reverse stockinette stitch in the round would require purling every stitch, just as stockinette in the round is knitting every stitch.)
If you knit a project flat that needs to be seamed, check out my tips for seaming Reverse Stockinette.
It can be a little more difficult to figure out your knitting gauge or to count rows when all you're looking at is purl bumps.
In both of these situations, I'd suggest taking measurements and counting from the knit side (here the "wrong" side) because the vs are easier to count but the measurement is, of course, the same. It's just easier to see from the other side if you're having trouble.
Patterns Using Reverse Stockinette
There are not as many patterns that call for reverse stockinette, though of course a lot of things that are worked in Stockinette could be used with the "wrong" side out to make them Reverse Stockinette.
Still, I really like it for a different texture in projects, particularly combined with Stockinette Stitch. For instance, I worked a striped pillow with one color stripes in Stockinette and the other in Reverse, and I really like the added interest that comes from changing color and texture at the same time.
I also have a bulky hat and scarf that use both patterns for a bit of interest in a solid color yarn.
The Wurm hat pattern from Katharina Nopp uses bands of Stockinette and Reverse Stockinette to add a bit of texture and interest (I particularly like the sample where the stripes are worked in different colors, too).
Cam Banks has a fun Reverse Stockinette Ruffle Bag that is a great way to show off the texture of this stitch.
Other patterns that contrast Reverse Stockinette with Stockinette include the bulky beauty Aujourd'hui by tante ehm worked in gorgeous Malabrigo Rasta and Ezra's Buttery Soft Blanket by Laurie Kimmelstiel, which has alternating blocks of both stitches.