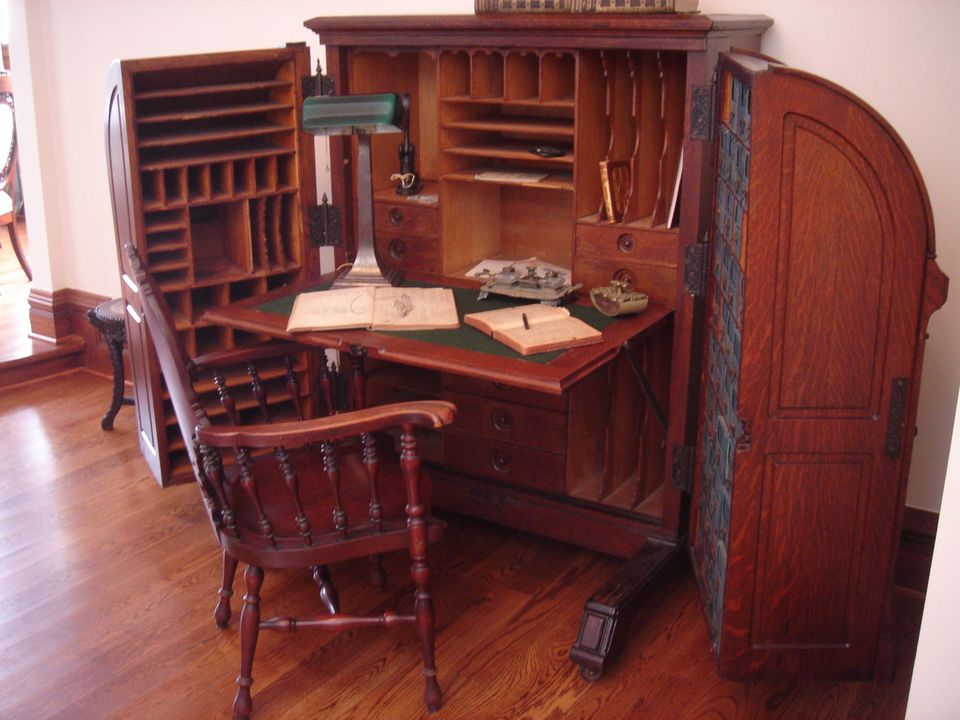 A desk is a desk, right? Well, not really. Many different types of desks have developed over the centuries, and many of them don't resemble modern home and office desks much at all. A number of these styles have been revived over and over, and still inspire reproductions in their likeness. Some also overlap in their descriptors. These include slant-fronts like the escritoire and fall-fronts like the butler's desk, among a number of others.
Bureau Mazarin

This is an early type of kneehole desk, dating from the 1660s, with two or three tiers of drawers on each side, a small central drawer and a drawer in the kneehole space as well. It usually has eight (but sometimes four) turned legs, which are connected with X-stretchers or H-stretchers, and typically rest on toupie feet. Developed in France, and associated with Louis XIV-style furniture, the Bureau Mazarin was usually quite ornate and lavishly adorned with Boulle marquetry. The name, which...MORE literally means "Mazarin's desk" is a 19th-century term, referring to Cardinal Jules Mazarin, who ruled as Louis' regent from 1642-1661

Butler's Desk

Often referenced as a butler's chest, this is a type of drop-front desk, fairly short and compact but substantial and square in shape. The interior contains several small drawers, cubbyholes and letter slots surrounding a central door. Some models also have two exterior compartments flanking the fall front. The lower half usually has three to four drawers or occasionally shelves behind two doors.

Dating from the late 18th century, and continuing in popularity for the next 100 years, the desk...MORE usually reflects predominant furniture styles of the period in details such as the feet or ornamentation. Sometimes referenced as a butler's chest, since when closed it resembles a chest of drawers.

While fairly plain - as befitting a utilitarian piece of furniture - butler's desks often had fashionable decorative details. Those made during the second half of the 19th century, for example, might have had a spindled galley typical of the popular Eastlake style.

Cheveret

The Cheveret is variety of small, delicate stand or desk, of the type commonly called lady's writing desk. It is distinguished by the multi-drawered setback chest or bookcase on the top. This smaller piece has a handle and is usually detachable while the main surface typically has a drawer underneath and often a fold-out or pull-out shelf.

The legs on a Cheveret can be straight, saber style, or tapering, and are sometimes connected with a lower shelf as well. Though probably originating in...MORE France, cheverets further developed in England in the latter half of the 18th century, representing the vogue for light, portable furniture. They continued to be popular into the Regency period, until the 1830s

Davenport Desk or Ship Captain's Desk

This is a type of small case desk, with a slanted and/or pull-out top and a row of drawers down one or both sides. Some have one side of working drawers and one side of faux drawers. Many also have small front drawers, cubbyholes, hidden compartments released by a knob in one of the drawers, or pop-up galleries. 

The davenport dates from the 1790s, developed by a British furniture-making firm named Gillows (also known as Gillow & Co.). Its name derives from the client it was made for, a...MORE Captain Davenport. Because of this military connection, and the desk's compact size and multiple compartments, furniture historians theorize the piece was originally intended to be used on a ship, or on military campaigns. They are sometimes referenced, in fact, as a ship captain's desk.

However, the davenport became popular on dry land and in homes throughout England and the United States during the 19th century. Originally a simple chest of drawers with a swivel top, it grew increasingly ornate, with pilasters or cabriole legs in front. It traditionally rests on bun feet, often with castors to make it portable from room to room.

Continue to 5 of 10 below.

Escritoire

An escritoire is a type of case furniture, usually a low desk, that has a slant top. When open, this sloping lid forms a surface for writing or reading (the name derives from the French word "écrire", meaning "to write.")

Developed in the early 18th century, the escritoire grew out of - and the term can still apply to - a writing box or small cabinet with a drop-front and drawers or shelves that dates from the Middle Ages, most likely from Spain.

Fall Front Butler's Desk - What appears to be a top drawer is actually a false front that folds outward to form a writing surface. - Photo Courtesy of Morphy Auctions

This popular type of desk, also known as a drop-front, originated in Spain in the 16th century as the vargueño. Since then it's been incorporated into many different desk styles, including the Butler's desk (see entry above). 

Kneehole Desk

This type of flat-topped desk was first made in England in the early 1700s. It features a flat top supported by two banks of drawers or cabinets separated by a space for the legs of the person using the desk. Since it was introduced, it has been manufactured in many different styles, and it is still popular with companies producing Colonial reproductions. 

Partner's Desk

This antique desk style popular from the late 1800s through the early 1900s, is said to have originated in England. These types of two-sided desks were often used by bankers who wished to work together for convenience, and they are the same on each side allowing individuals to face one another. Since they are essentially office furniture, they are usually heavy and well-made from quality woods such as mahogany or oak. Some examples have leather tops as well.  

Continue to 9 of 10 below.

Slant-Front desks have evolved over time, with the first examples having hinges at the top. Many different types and styles have been made with slanted tops since then, including a number of those shown with this feature. Click on the link above to learn more about this type of desk. 

William S. Wooton Desk in The Queen Anne Mansion in Eureka Springs, Ark. - Photo Courtesy of The Queen Anne Mansion

This coveted Victorian desk style was the executive's choice when it was first introduced. In fact, it was deemed "The King of Desks."

Today collectors relish finding these marvelous pieces as curiosities and conversation starters even more than for their usefulness. Learn more about this type of desk reading The Wooton Desk's Style, History and Significance.

Special thanks to contributing writer Troy Segal for her assistance with this article.