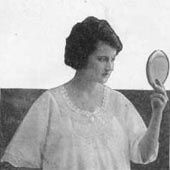 Butterflies are a crafter's delight. They're such eye-catching creatures; they've inspired countless artists and designers to capture their elegant beauty. Butterflies are particularly beloved by crochet enthusiasts, because crochet is an ideal medium for creating intricate, lacy butterfly shapes and patterns.  This page features free crochet patterns with a butterfly design; you'll find a variety of different butterfly patterns to choose from.
This fascinating and eye-catching pattern is part baby blanket, part baby cocoon, and part costume. This free pattern was designed by Michele Wilcox and is available at the Red Heart website.

Designer: Mary Jane Protus
Crochet Skill Level: Intermediate
About This Pattern: This afghan was designed with little girls in mind, although it might also work for teens and "tweens" as well.
Where to Get the Free Butterfly Afghan Pattern: This pattern is posted at the Red Heart website. The link above takes you to the informational page on their website, where you can download the pattern if you wish.

This pretty little butterfly is crocheted using three different colors of Drops cotton viscose yarn. The applique is very textured and has lots of dimension.

Where to Get the Free Pattern: The free pattern for this butterfly is posted at the Garnstudio.com website. I've linked you to the American English language version of the pattern; they also make a British English version available if you would prefer that.

Designer: This is a vintage pattern that Cheri Mancini has adapted and posted at her website
About This Pattern: Cheri shows you butterfly examples made in two different sizes of crochet thread: size 80 and size 10.
Where to Get the Free Pattern: The link above will take you to Cheri's website at sites.google.com, where the free pattern is posted.

Continue to 5 of 10 below.

Skill Level: Easy
About This Pattern: This is a three-round butterfly that looks reasonably simple to crochet.
Where to Get the Free Pattern: The link above takes you to the crochetnmore website, where the free butterfly pattern is posted.

Vintage Nightgown Yoke With a Butterfly Design

Vintage Filet Crochet Yoke With Butterfly Design. Vintage Crocheted Yoke With Butterfly Design - Photo © 1920 Adeline Cordet / Valley Supply Co.

A butterfly design is the focal point of this dainty nightgown yoke. The butterfly is worked in filet crochet from a charted design.

This pattern was originally published in a vintage crochet pattern book dated 1920. The name of the publication: Ripple Sweaters, Yokes and Edgings, Book No. 13 by Adeline Cordet. The publisher was Valley Supply Co.

Crochet Butterfly Afghan Pattern

Sandi Marshall designed a stunning crocheted afghan with a variety of different butterflies. These butterfly patterns could also be used separately if you have other projects in mind.

Bhutanitis Mansfieldi Butterfly Chart
Ceylon Rose Butterfly Chart
Eastern Festoon Butterfly Chart
Mexican silverspot butterfly color chart
Mimic Swallowtail butterfly color chart
Monarch butterfly color chart
Necyria Manco butterfly chart
Purple azure butterfly chart
Shining blue nymph butterfly chart
Syrmatia Dorilas...

butterfly chart

Zebra swallowtail butterfly chart

Butterfly Circle By Sandi Marshall

Crochet an afghan, bedspread or other project using these free butterfly circle charts by Sandi Marshall.

Butterfly circle color charts
Butterfly circle in filet crochet
Initial for center of butterfly circle design

Continue to 9 of 10 below.

This two-color butterfly chart is ideal for filet crochet, but could be used for other needlecrafts too.

This stitch resembles a lacy abstract butterfly. Sandi Marshall's photo tutorial will show you how to work the stitch, step by step.