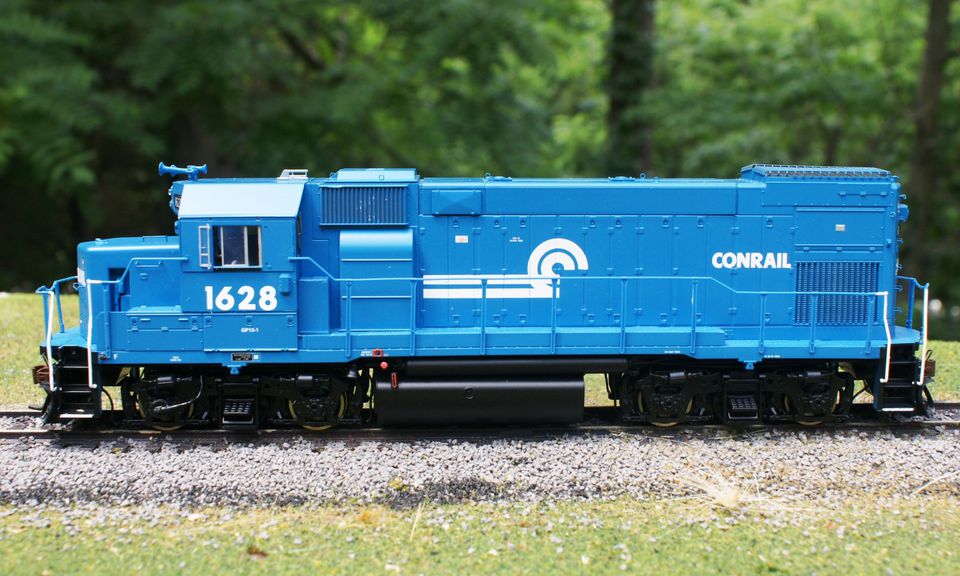 The EMD GP15 has been recreated in many scales, including HO, before. Athearn's long-awaited release of a new model of this prototype in its Genesis line delivers on all of the hype. This small and versatile locomotive will be as usefull on many model railroads as it is in real life.
Three numbers are available per road in DC or DCC / sound versions.
Roadnames (first run): Conrail, Chicago Northwestern, Norfolk Southern (former CR), Missouri Pacific, Undecorated (multiple versions)
MSRP: $269.98 (DCC / sound) / $169.98 (DC)
A second run with new roadnames and detail variations has already been anounced.
Prototype History
In the 1970s, the Electro Motive Division of General Motors (EMD) designed a new locomotive program to compete with growing locomotive rebuilding programs. Railroads across the country were having older locomotives rebuilt to save on the costs of a new locomotive. Many of the rebuilt engines were older EMD models.
EMD designed the GP15 to handle many of the same roles performed by the locomotives it would replace, from yard and switching to mainline duty. Railroads purchasing GP15's supplied an equal number of trade-in locomotives which would supply traction motors, generators and other components that could be rebuilt and included in the otherwise new locomotive. The GP15 featured 1,500 horsepower and had numerous options including dynamic brakes and different air filtration systems. Later variations included a turbocharged 8-cylender version of the 645 diesel engine.
EMD built 368 GP15s in a variety of arrangements between 1974 and 1982 for six railroads.
Historical Background from: Athearn Trains GP15 Instruction Sheet
Performance
Athearn has a long tradition of building reliable models. The GP15 is no exception. The model is offered in both standard DC and DCC equipped versions which include a Soundtraxx Tsunami sound decoder.
The DCC version was tested for this review.
Although they could and did stretch their legs in road service, GP15's are normally assigned to yards and local freights which feature a lot of low-speed running. I put mine to the test working a small yard and some local freights for an evening.
The GP15 started up to 20 cars at a smooth and realistic slow speed without stalling on my yard ladder which includes a very slight uphill grade. Above 20 cars, the locomotive would stall frequently, including efforts to take slack in the couplers. Many prototypes operated the GP15's in pairs, so a second unit would not look out of place if your yard crew regularly handles larger cuts of cars.
While the locomotive will zip along at a top speed that is probably somewhat greater than the prototype's, it's slow speed performance is outstanding. Acceleration is smooth and sustained low-speed performance is phenomenal. I had some problems early on with stalling on tracks that hadn't been used in a while. A little overdue track cleaning elimiated this problem. This may be the quietest locomotive I have ever tested (not including the sound of course). Even at top speed, there is no motor or gearbox noise.
This allows the Tsunami decoder to shine.
I coupled the locomotive onto several different cars with various knuckle couplers. Some couplers with longer trip pins did interfere with the plows.
Sound
The Soundtraxx Tsunami decoder has already received positive reviews in other locomotives and is becoming the new standard for DCC sound. One of the features that set these decoders apart is the ability to customize virtually every feature. I left my locomotive on its factory equipped settings for this test.
One of the first things to jump out about the factory settings on this sound decoder is the low overall volume. Compared to other locomotives out-of-the-box, this locomotive is very quiet. While sound is a matter of personal taste, I have to say that I like the settings. On larger model railroads, a room full of engines cranking away at full volume can be very distracting.
The locomotive can be heard from a comfortable distance, but not from anywhere in the house. One nice feature is that all of the sounds are nicely balanced; no overpowering bells or whistles. I'll probably leave most of the factory settings as-is, but the volume settings can be adjusted for each sound if so desired.
Details
Athearn proclaimed that this would be the most detailed model of this locomotive ever produced in HO scale, and they delivered. With all of its options and production changes, the GP15 is a challenge for model makers. No two railroads' locomotives look the same. One look at the parts diagram on Athearn's instruction sheet tells the story. From the air intakes down to the coupler cut levers, Athearn has reproduced just about every variation in production big or small. Locomotive details often change over time, so for those who strive to model a very specific prototype or time period, there will still be room for some tweeking. For most, a good weathering job is all that will be needed to put this locomotive right into service.
I tested the Conrail version. For more on the Conrail-specific details, see page two of this review.
Overall, this locomotive is very high on detail. The see-through screens on the radiator, sand and air lines on the trucks, cab interior and pilot details stand out among the rest. An all-weather window and sunshades are included as add-on details for the consumer.
Paint is evenly applied and all of the lettering, including the tiny safety decals, is clear and crisp. Most of these locomotives toiled in yards and received a good coating of exhaust and grime. A good weathering job will really make the small details pop.
Conrail Details
Athearn's first run of Conrail engines are detailed as the locomotives appeared upon delivery in 1979. Conrail received 100 GP15's in 1979, trading in GP7's and GP9's. The entire fleet survived to the Norfolk Southern / CSX takeover working mostly in yard and local service all across the system.
Over the next 20 years many would receive different plows, ditch lights, new paint and other detail changes.
Some of these may be represented in later Athearn releases. (The Norfolk Southern versions represent former CR locomotives with working ditch lights installed.)
Comparing the model to detailed photographs in Paul K. Withers' Conrail Motive Power Review: 1986-1991 (Withers Publishing, 1992), the model has captured the look of the Conrail locomotives beautifully. Perhaps my favorite detail is the tiny LSL (Locomotive Speed Limiter) indicator light cast onto the frame near the front step wells. This little detail is part of a special device used on locomotives that travel Amtrak's Northeast Corridor. It is almost never found on commercial models.
Other Conrail-specific small details include the cab signal box on the right side, dual plows, and antenna. There are more significant body detail options as well that are too numerous to list. Over time, many Conrail locomotives had different plows and other changes.
These could all be represented with other after-market detail parts if a specific prototype is being modeled from photos.